The Primary goal of Metro East Farms started back in around 2012 when we are taking disabled & autistic kids on special day fishing trips, then disabled before moving to seniors and seniors in nursing homes on fishing trips FREE of charge to the client, I had animals on the farm and a few trips fishing with seniors from nursing homes it evolved and snowballed from there. we had the farm just never melded the two together. Back in January 2012 Gretchen Steel with Heartland Outdoors did a story on me and my team in its infancy and it grew from there.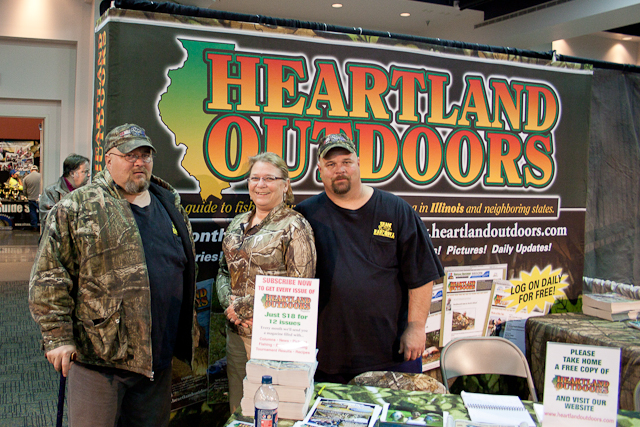 Photo Courtesy of Gretchen Steel & Heartland Magazine
Metro East Farms then went onto taking not puppies and kitty cats like ALL the other people did, Paul thinks you know what live out in the country, that's right Rural America out where the hoot owls rape the chickens. If I was in a nursing facility the last damn thing, I want to see is puppies and kittens and what's better at a disabled or autistic child's birthday party to a mini zoo, kind of sort of.
Yup! Small animals Chickens, Ducks, Turkeys, Goats, Lambs, Rabbits and yea BIG FUZZY Livestock protection Great Pyrenees puppies and dogs. We have had a number of events we do FREE OF CHARGE to the client, we survive on generous donations from the public and the sale of produce,, products, services and yes surplus animals not chosen for the program sold to other owners ALL this finances our programs along with grains, hay, straw, medical, housing it all cost money and at the end of the year chances are I'm  digging into my $911.00 Social Security just to make up the difference. And sometimes to keep from selling we sell tickets from .50 cents to $1.00 each for a chance to name and sponsor that goat or lamb. what's known on the farm is once an animal is given a name it's here for life, never sold never sold to market.
We have 2 female bottle-fed goats that have been here since 2015 and a sheep from another farm rescued that is about 8 years old. We do have some pictures and will post some here but some of the nursing homes have to abide by HIPPA but some families give us permission.
Fishing Events
Nursing Home Animal Events
Paypal NOT accepted on Livestock, Only Family and friend Transactions & Donations